As I prepared to relaunch CITB and join all 3 of my blogs into one site' I have relearned the ins and outs of "Twittering." Putting Twitter to use is the best way to learn what Twitter is all about. I want to share how Twitter can best be used in your personal and professional life.
For a really great introduction to Twitter Watch this video:
Currently Twitter has:
340,000,000 Tweets per day
140,000,000+ active users
What is Twitter?
Twitter is an information network. Millions of people, organizations, and businesses use it to discover and share new information.
On Twitter, anyone can read, write and share messages of up to 140 characters. These messages, or Tweets, are public and available to anyone interested in them. Twitter users subscribe to your messages by following your account. Followers receive every one of your messages in their timeline, a feed of all the accounts they have subscribed to.
When you combine messages that are quick to write, easy to read, public, opt-in, and accessible anywhere, you have a powerful, real-time way of communicating.
How do you use the power of Twitter? Here is a video to better understand:
Speaking Twitter
Twitter users have developed short-form syntax to make the most of 140 characters. Here are the fundamentals.
Mention
Once you've signed up and chosen a Twitter username, you and others can mention an account in your Tweets by preceding it with the @ symbol, eg: "Glad your shipment arrived @janesmith!"
Retweet
When you see a Tweet by another user that you want to share, click Retweet below it to send it to your followers instantly.
Message
If you want to privately Tweet to a particular user who's already following you, start your Tweet with DM or D to direct-message them, eg: "DM @joesmith234 what is your order number?"
Hashtag
Users often prepend # to words in their Tweets to categorize them for others eg: "Check out our new products for the Fallhttp://t.co/link2 #fallsale" Think of hashtags as the theme of your Tweet. Users can then click on a hashtag to see other similarly-themed tweets and find yours in search.
Best Practices
Build your following, reputation, and customer's trust with these simple practices:
Share. Share photos and behind the scenes info about your business. Even better, give a glimpse of developing projects and events. Users come to Twitter to get and share the latest, so give it to them!
Listen. Regularly check the comments about your company, brand, and products.
Ask. Ask questions of your followers to glean valuable insights and show that you are listening.
Respond. Respond to compliments and feedback in real-time
Reward. Tweet updates about special offers, discounts and time-sensitive deals.
Demonstrate wider leadership and know-how. Reference articles and links about the bigger picture as it relates to your business.
Champion your stakeholders. Retweet and reply publicly to great tweets posted by your followers and customers.
Establish the right voice. Twitter users tend to prefer a direct, genuine, and of course, a likable tone from your business, but think about your voice as you Tweet. How do you want your business to appear to the Twitter community?
Put Twitter to work for small businesses.
Download This Guide Here
 Six FREE Twitter Home Page Designs
I have made new friends and developed new business contacts using Twitter, and I want to give back to the Twitter community.
I decided to give Twitter users a gift. I have packaged 6 Twitter homepage designs. Each design is available as a zip file with instructions on how to install it to have it look like the screen shot below.
Golf Twitter Home Page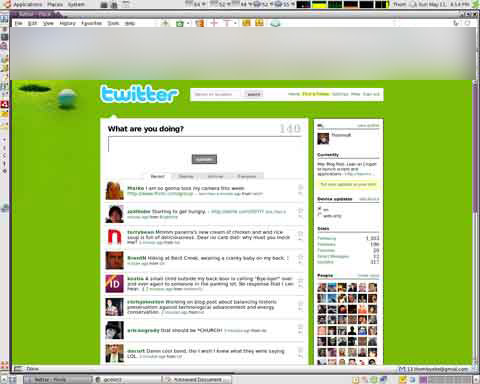 CLICK HERE TO DOWNLOAD THIS FREE TWITTER HOME PAGE DESIGN
Black Cat Twitter Home Page
Fireworks Twitter Home Page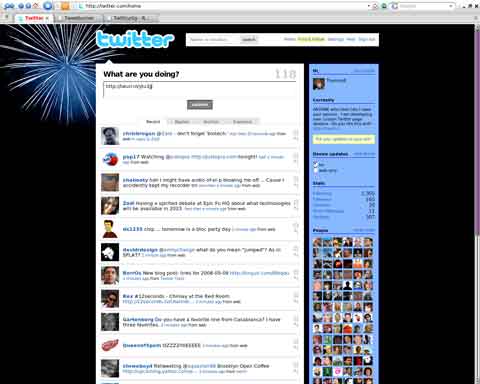 CLICK HERE TO DOWNLOAD THIS FREE TWITTER HOME PAGE DESIGN
Baseball Twitter Home Page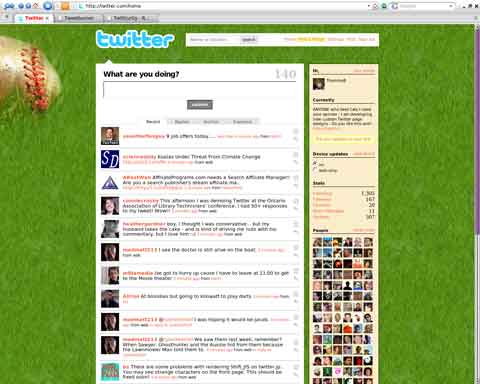 CLICK HERE TO DOWNLOAD THIS FREE TWITTER HOME PAGE DESIGN
Moon & Stars Twitter Home Page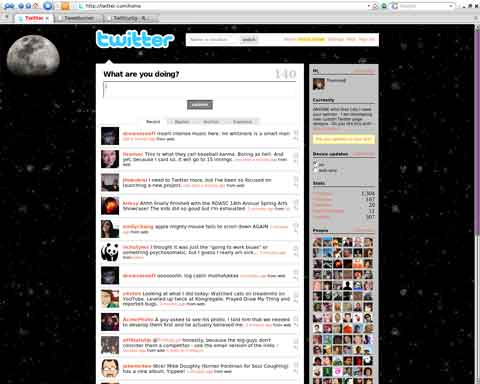 CLICK HERE TO DOWNLOAD THIS FREE TWITTER HOME PAGE DESIGN
Rainbow Twitter Home Page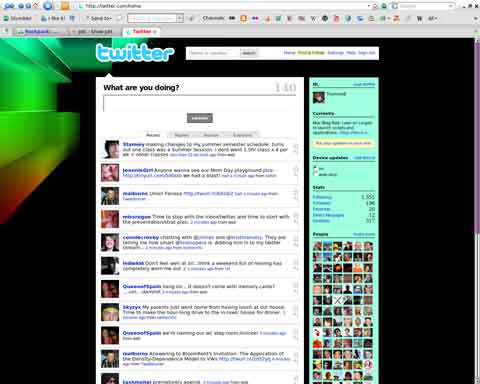 CLICK HERE TO DOWNLOAD THIS FREE TWITTER HOME PAGE DESIGN
Related posts